Salesforce Sales Cloud Development Services – Business CRM Software in USA UK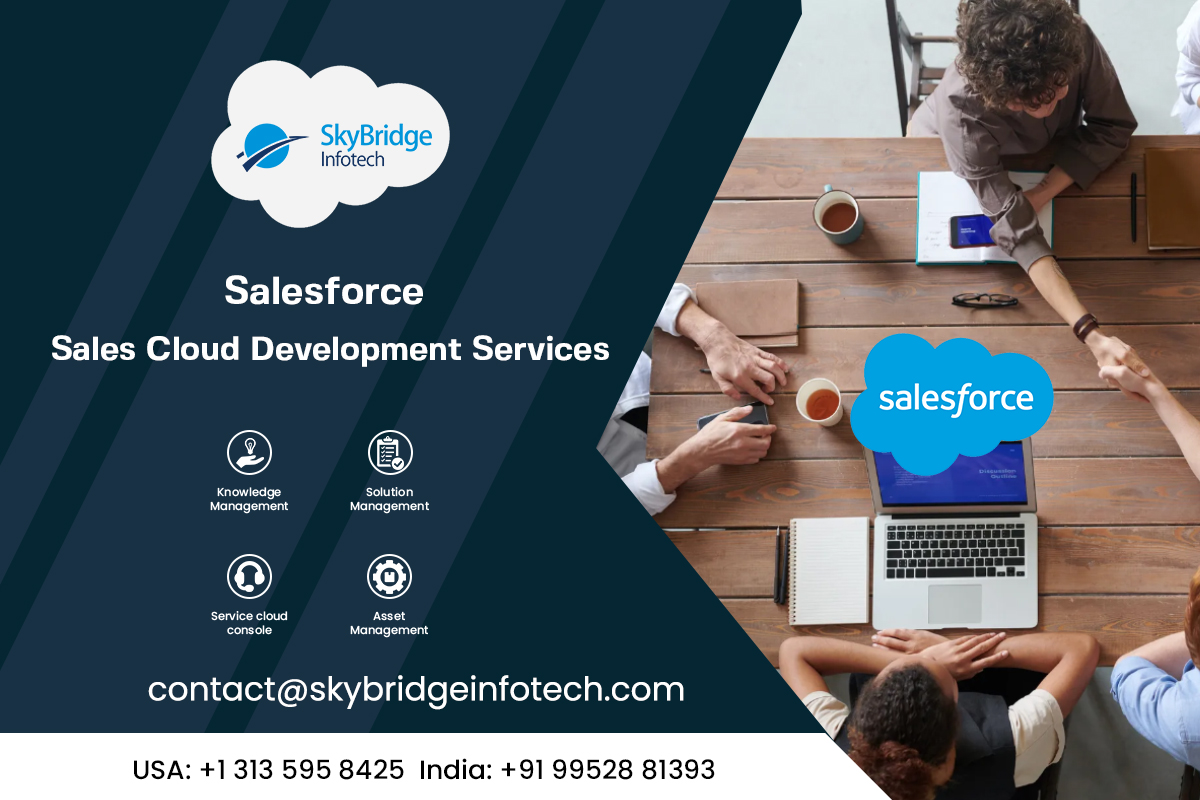 Salesforce Sales Cloud Development Services – Business CRM Software
Salesforce Sales Cloud Implementation & Consulting
At the end of the day, what matters to businesses is ROI. Salesforce Sales Cloud is the one we should select to have a good business environment. When a business uses a CRM platform to close deals and to find new customers.
Our certified Salesforce consultants can implement a sales cloud for your business. With the help of Sales Cloud, you will be able to connect different processes and data sources, extend sales with prebuilt apps, and to boost up your sales process and business revenue.
Sales Cloud Customization Agency
We can manage our leads and customers in one place with the help of Salesforce Sales Cloud. Basically, it is designed to help the sales team to boost up the non-selling task with the help of mobile. Salespeople can close their tasks from anywhere at any time. It will increase the Task selling rate by making it simple for Salespeople.
The Salesforce Sales Cloud provides all types of tools to connect with customers at social insights all in one place and available anytime, anywhere. Our certified consultants have good experience in the implementation and customization of the Sales cloud to our customers.
Sales Cloud Development Lifecycle
Translate your vision into a practical solution by combining industry knowledge with our deep understanding of Salesforce applications, platform, and other solution offerings.
Deliver high-quality solutions quickly, using our iterative deployment methodology toolset and past experience.
Fully integrate Sales Cloud with necessary front and back end systems (CRM, marketing automation, order management, quoting, etc.), leveraging our proven integration expertise and tools.
Features of Salesforce Sales Cloud
Let's look at the key Sales Cloud features that help sales managers
Sales Path helps sales managers to establish the sales process so that it can be managed with ease. By showing the actions that are expected from the sales reps at each stage, sales managers get the expected behavior from their reps.
The lead conversion process is available in Sales Cloud which can be tailored to your business needs (for example, with B2B and B2C business characteristics in mind). It lets you set up the process of converting a lead into an opportunity, account, and contact. You can also just convert a lead into an opportunity and account and include automated workflows and validation rules to make the lead conversion process stable and constant.
Products and Price Books is for setting up rules to pricing options for products and services, operating with multiple currencies. Sales managers can provide extra discounts to different customer groups based on industry, location, etc. This method also lets you change prices while keeping a record of the initial price for the proposal. This way, everything is well managed without putting up any manual efforts when the prices for the product or service change.